You can be as cynical as you like but McDonald's have played two aces recently –  one in a show 'n tell video describing how they make hamburgers look better in photos than in real life; another in a similar video revealing how they make their hamburger dressing.
The effect is increased credibility.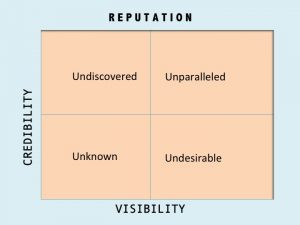 The starting point here is this – most of us are sick of TV ads selling food messages that are not believable and force-fed to us at high saturation levels. Maximum visibility, minimum credibility. We, the public, don't really believe that we are going to be healthier, lose weight, have more spring in our step because we consume brand X over Y.
As you can see in the adjacent quadrant, 'All publicity is not good publicity'. High visibility instead of credibility is self-destructive.
The point is, we don't always want high visibility; we do always want high credibility.
Back to the McD videos:
In the first is a video that starts with a McDonald's staffer (Hope Bagozzi, Dir Marketing, Canada) reading from a customer, "Why does your food look different in the advertising than what is in the store?". Hope then takes us through the process, warts 'n all, complete blow dryers and syringes. It's refreshing, and I for one am not any less tempted to buy a Quarter Pounder with this new information.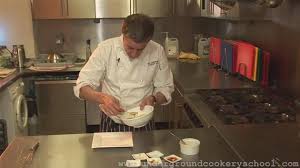 The next video is much less revealing of the cynicism, but equally revealing of 'trade secrets'. It is simply a chef (Dan Coudreaut, Exec Chef, McDonald's), answering another question, "What is in the sauce that is in the Big Mac?"  Nothing appears hidden.
The point here (back to that quadrant above) is that McDonald's already has maximum visibility, with a problem on credibility. But now less so.