This is a Crisis PR tip I picked up from Lord Tim Bell. It's going to sound over-protective, but it pays dividends.
I was a producer on 60 Minutes about to defame one of Bell's UK clients who was a scoundrel and deserved to be exposed. Bell was no longer (former UK Prime Minister) Maggie Thatcher's advisor and was now a PR consultant. He was very aggressive in this early phonecall, and those that followed, and eventually by taking a number of steps he managed to force Channel Nine to soften the story's allegations.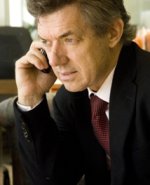 Step one in Crisis PR: hang up when a journalist calls
It sounds rude, but if you follow this tip it can help to mitigate a PR crisis. If you fail to follow this, you can create a PR crisis. It's all about being prepared for the conversation.
It goes like this:
(Phone rings)
Bell: Hello, Tim Bell…
Wilkinson: Hi, my name is Peter Wilkinson from 60 Minutes in Sydney….
Bell: (friendly) Hello Peter, happy to talk but can I call you back in a few minutes?
Wilkinson: It'll only take a minute, can we speak now?
Bell: (still friendly, but determined) Really happy to talk Peter, but I'll have to call you back. (takes details and calls back in a few minutes).
Here's the point: when I called Bell I was going to be asking the questions, and he was probably ill-prepared and on the defensive. When he called me back he was prepared, asking the questions and more in control of the conversation.
Here's another example, this time when I, as a PR person was undertaking Crisis PR for a client. This time my mistake:
I was advising a large chemical company, which was doing the right thing remediating a polluted site in Sydney. In about 2010, a journalist from The Daily Telegraph, who I knew vaguely, rang and in the first breath asked a question to which I replied, "That's not correct". Silly me for breaking my own rule. The short-form denial was enough for the story, no more questions needed. It wasn't the comment we wanted to see in the paper and it made the company look defensive.
It is bad Crisis PR to just offer a journalist a denial, without an explanation.
Here's what should have happened:
– I hang up, get my head together, Google to see what the journo has written previously to see his/her style, consult my client, ring back and start a conversation being careful asking the purpose of the call, without offering any potential quotes, and establish some boundaries with, "Before we start do you mind if I ask you a few questions to see where you are coming from? It will also help me to prepare the most accurate answers".
Crisis PR: seven steps
Then there are seven areas of questions (and only seven) you need to explore that will help determine what the story is really about and how it will look when it appears. Plus you can judge the risk (and therefore your recommended response to the client) by listening to how forthcoming the journalist is – a sort of benefit/risk analysis.
Now, this may seem overkill for a simple phone call. Most of the time it isn't necessary, but in PR you're not remembered for the things you do right. It's that one story in twenty that goes haywire that can become your legacy.