An example of an organisation's Social Media Protocols for employees:
Dear Staff,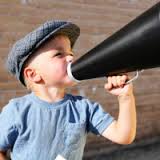 The Internet has democratised publishing and we recognise how natural it is for our employees to join the conversation. In fact we encourage it.
Here are a few guidelines to give you confidence. They will help you open up a respectful, knowledgeable (and fun) interaction with people within our organisation. They also protect the privacy and confidentiality of staff , as well as the interests of our organisation and the people we support. 
Personal websites, blogs and social media
The list of things you can do on the internet is exhaustive, so it may be easier to simply impose a few limitations…..
Commenting as a company representative is not permitted. There is only one spokesperson, our CEO.

Our company logo and trademarks may not be used without permission.

If someone complains in social or digital channels pass it quickly to the social media team.

If you have any doubts of any kind, speak to the social media team. They are here to help.

Remember that in social and digital media, as an employee you are representing the company at all times, not just during work hours. You must interact respectfully, refraining from inappropriate language or the use of inappropriate material (photos, etc.), name calling, and any other behaviour that may reflect negatively on our reputation or may create a negative work environment.

Honour the privacy rights of your colleagues by seeking permission before writing or publishing material that might be considered to be a breach of their privacy or confidentiality.

Recognise that you are legally liable for anything you write or present online.
Guides for the Social media team
Responding, engagement and monitoring
Make sure the Rules on each site are up to date and encourage participation.

Promptly reply to comments when appropriate

Spam or abusive, derogatory or defamatory comments must be removed quickly

If a complaint arises always respond within 5 minutes.

A complainant can be kindly asked to respond to questions within 24 hours. If the complainant does not engage, we reserve the right to delete the post
 Hours of activity
The Community Manager will be available online from 8am-9pm Monday to Friday (04xx

xxx xxx

)

Weekend monitoring will be assigned by the Community Manager