With the budget behind us, we're back to the dreaded carbon tax debate.
On Saturday the Weekend Australian reported that Qantas will be forced to increase international airfares to Europe as a penalty from the EU because Australia doesn't have a price on greenhouse gas emissions. The previous Monday the same paper reported, in a story headlined 'Carbon complaints mostly hot air', our client Andrew Grant saying, "The bark of these (emissions) schemes is a great deal worse than the bite," noting that an emissions trading scheme begun in New Zealand last year has seen a 1c a litre rise in the retail price of petrol.
Then this morning the energy industry is claiming a carbon tax will cost more than an emissions trading scheme.
Plus, the Gillard government is way behind in the polls. Government insiders must be wishing they had chosen an ETS instead of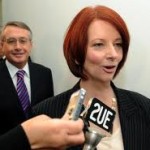 a carbon tax, not that either would be easy to introduce with a hung parliament.
This week some commentators will probably remind us that any new tax is notoriously hard to impose. Remember the quote made famous by George Bush (the first), "Read my lips: no new taxes" – he made that promise in 1988 and many Bush supporters believe it helped him win that presidential election. And back at home, his attempt to introduce the GST lost Hewson an election most observers say he could have won.
A good PR strategy for the government this week will be to first look for third party support for a price on carbon, from organisations within Australia, and from overseas – this tactic will head off Abbott. And then find a way of changing direction towards an emissions trading scheme – one of which would be to say, we have 'listened' and responded.
Watch this space.