It's hard to think of a good reason, any reason, why George Christensen, only days after the Florida school massacre, posted a Facebook photo of himself aiming a handgun, with the comment: "You gotta ask yourself, do you feel lucky, greenie punks?" (paraphrasing Clint Eastwood in the 1971 movie, Dirty Harry).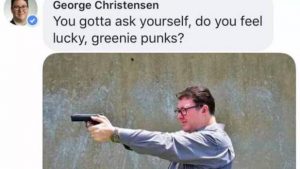 The post was later edited to "You gotta ask yourself, do you have a sense of humour, greenie punks?", and finally, deleted.
Perhaps he was playing to his electorate, a marginal seat in Queensland. The Mackay paper, the Daily Mercury, gave him a better run than the national media:
Mr Christensen said he had done nothing wrong while environmentalists were breaking the law and terrorising the residents of Bowen as they continued to protest against the Adani Carmichael Coal Mine.
"I am not going to be moralised at by these extreme greens for a joke … while these people … (are) putting the safety, well-being and lives of workers at risk at places like Abbot Point."
However, what followed, publicity about death threats to political foes, and condemnation from all sides, was to be expected. Predicting it wouldn't have taken much forethought.
PR blunders like this are so easily avoided. Simply work through a list of stakeholders to imagine how it's going to play outside his electorate:
Political colleagues in Canberra, especially fellow Nats who've had probably the worst week in a decade: bad idea.
Greenies who may, as a result of the post, get death threats: bad idea.
Malcolm Turnbull and the rest of the government trying to start a new week afresh: bad idea.
Almost every other stakeholder you can think of: bad idea.
Any experienced PR pro, surely, would advise him to can the idea and think of another one.
You lack wisdom if you think you're smart enough not to seek a second opinion from expert minders. Communications these days is too complex with so many fast moving parts.
It follows on from the extraordinarily bad strategising by Barnaby Joyce over his love life. Where were his PR protectors? Why didn't they take the initiative and break the story to control the agenda? Why not at the end of last year in that gap between the by-election and Christmas? If not then, why not on the back of the Jacinda Ardern pregnancy announcement? Why not capitalise on that short window early in the news-cycle when people, including journalists, were talking about Joyce's right to privacy, and demand just that much harder than he did? Why not hunt around for influencers to be supporters, from civil libertarians, his electorate, his party, from the rest of the coalition? Why not divert the messaging on to his qualities as a leader?
In those situations of extreme stress, it's hard for the person in the cross-hairs to think clearly. My guess that besides the extreme pressure from media and family, he would have been sleeping badly, and eating poorly. The brain doesn't function properly in those extreme situations. But his minders?
I believe a competent politician with strong minders would have adequately prepared for this situation, and when it hit, be able to rescue it.
What a person needs when there's an issue that will probably go pear-shaped, and leaders in the corporate world often experience similarly high pressure, is loads of preparation: time set aside to think through strategies (Joyce had months).
It includes trusted advice from experienced and cool heads on strategies and tactics, including: clever messaging, the rallying of strong support from allies, legitimate diversionary tactics; and adequate rest and a good diet for clear thinking.
And then when it hits, nimble positive responses that can set the agenda for each day, and some shielding from the political media (those door-stops were a disaster!).
Barnaby seemed to have none of that.
I couldn't help thinking of how Bob Hawke might have managed a similar situation. He certainly wouldn't have been defensive, as Joyce was. As I remember, he would have fought back and told us it was none of our <expletive> business and then diverted to a major issue of the day.
And George Christensen with his stunt, like Barnaby Joyce, displayed a similar lack of forethought. Had he bounced that silly idea with a savvy PR professional it never would have happened.
The fact is, we all expect more professionalism now from our politicians. We're all smarter because of the information revolution and, as well, there are less ways for leaders to hide.
It's hard to remember just how sheltered the politicians were just a decade ago – George Christensen can no longer just play to 'local media' and Barnaby Joyce can't hide in the 'Canberra bubble'.